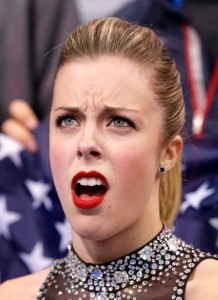 Ashley Wagner is a beautiful young woman.
In fact, the Olympics were full of beautiful young people.  They are the best of the best.  The perfect pinnacle of the human species.
And social media caught the picture above as Ashley saw her score… and made it an internet meme.  It made her famous.
This is totally unfair to Ashley.  She is probably one of the most beautiful of our species.  But the picture is not representative of her beauty.
It is also unfair to the other athletes.  They are being upstaged by a momentary expression of angst at seeing scores.  They all deserve our adulation, but our attention is being diverted to Ashley.
It is unfair to us.  We deserve to see the pictures of the best of our species achieving the absolute best humans can get.  But we are fed pictures of momentary expressions of our heroes.
Even more depressing, we are fed whatever is on the day hot list.  We are fed a constant output of the Kardashians, Paris Hilton, or whatever other tripe the press wants to push.
We deserve to be inspired by great achievement and conquest.  Instead, we are fed funny pictures and useless trivia.
When given the choice, demand better.  Otherwise, the press is unfair to everyone.