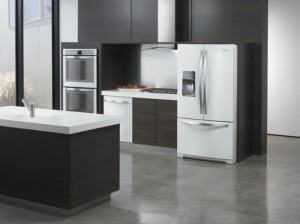 You watch HGTV, so you already know that kitchen counters are of utmost importance for your kitchen happiness and having updated appliances is mandatory.  It's best if they are granite and stainless steel, of course.  Yes, if you have stainless steel appliances and granite countertops you should be proud of your kitchen and be eager to show it off.  You will hardly be able to contain the joy that bubbles out of you when you are cooking.
Until this week.
Whirlpool has introduced the White Ice finish pictured above.  The bloggers who follow kitchen fashion are quite breathless.  It's much better than stainless because it doesn't pick up fingerprints and much, MUCH better than those old cheap white ones because it has a stainless steel handles and accents.  In addition to these game changing attributes it is being compared to the style of an iPhone.  It's not only worth getting, it really makes all other refrigerators not even worth owning.  This is it.  You should run out and buy it today if you want to be fashionable.  Don't hesitate … rumor has it that the delivery van is already on the way to the Jones household with the entire set of White Ice appliances.
Unfortunately for him, the Independent Penguin isn't even looking for a new refrigerator since his old one is still running.  It seems that he will just have to remain unfashionable today.  Me too.  You?