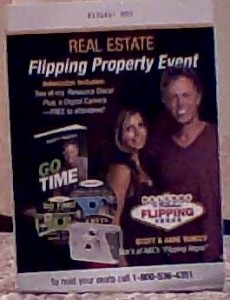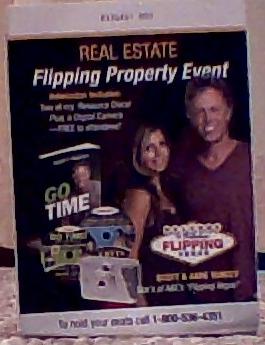 The other day I got surprise tickets in the mail to a Scott Yancey "Flipping Property Event".  This is my review of the seminar.  Be sure to read to the end of the post, as my evaluation might surprise you.
To those who might not know, Scott and his wife Amie star in the TV show Flipping Vegas.  I really enjoy that show as a guilty pleasure.  They have released a new book called "Go Time" that at the writing of this post has no reviews on Amazon.  My purpose in going to the seminar was to shake Scott's hand, let him know I enjoy his show, buy the book, and perhaps get it autographed if he had time.
When I arrived at the seminar venue, they had me fill out an information card before entering.  I left the phone space blank.  This turned out to be a smart decision on my part.
Entering the seminar room, there was a screen near the front, some tables manned by workers at the back, and a tight cluster of chairs near the front.  I looked for Scott, but he was nowhere to be seen.  I sat near the back.
Each chair had some candy, a schedule, a pen, and 2 pieces of blank paper for notes.  As each speaker was going through their presentation they would tell us what to write in our notes.  I wrote things that I found interesting instead.  At the end of the four hours I had 2 lines down.
When the time to introduce the expert came, it was done as a video insert into the powerpoint slide presentation.  Along with Scott, there was another expert introduced – Dean Graziosi.  This made my hair stand on end.  Something wasn't right.
Now, one of the people who I trust as an expert in real estate is John T. Reed.  And whenever I am confronted with a new situation I start to mentally consult John's Real Estate BS detector checklist: http://www.johntreed.com/BSchecklist.html.
During the seminar, the presentation triggered 11 different BS events listed below. Let's just say my guard went up and my wallet stayed in my pocket.
(The numbers refer to John's list linked above)
8: Offer to invest in your deals – self explanatory. (Although no details were given)
10: Emphasis on no down techniques- something to appeal to beginners
11: Blank paper – they literally gave us blank paper.
16: High prices – they were selling a $2K boot camp.
23: Repeated efforts to sell higher priced packages –
26: Advocating use of property managers – again, something that will appeal to beginners
30: Focus on the beginner market – a good part of the presentation was spent defining vocabulary
35: Citing religiousness as a selling point –  when a salesman shakes my hand tells me what a good guy he is, I check to make sure my watch is still there
37: Riff raff in audience – 100% on this one.  Although to be honest, I had just returned from a redeye flight from Las Vegas, was sleep deprived, and probably counted as riff-raff to the other attendees also!
40: Deliberately making a meeting room look crowded – everyone was bunched up at the front
41: Constant warning that the price would rise – check.
After the seminar I found a link to a review of Dean:
http://www.glancingweb.com/1998/the-dean-graziosi-real-estate-scaminar
Basically the scheme is to give a free seminar to sell a 2K bootcamp, to sell a 20-40K mentoring session.  It might help some people, I don't know.  But there is plenty of bad feedback about the upselling process on the web.
What about Scott?  Did he deliver what he promised?
At the end of the presentation everyone was given 2 CD's and some coupons.  One of the coupons was for a camera (you enter the info on a website and they would send  a camera).  To be honest, I didn't think anything would be sent, but I filled it out on the website anyway.
Well, it only took 2 weeks to get the camera!  That is faster than most any other promo (usually it's 6 to 8 weeks for shipping).  It came with drivers on a CD for windows 2000/Me/XP/Vista/7 and a USB cable.  It takes 2 AAA bateries (not included)  The camera is plastic and toylike, with 16 Mb SDRAM and has a capacity of 26 pictures VGA (640*480) or 104 pictures AVGA (320*240), or double that if the pictures are compressed.  The software allows for a self-time mode (10 sec delay), video at 12 frames/sec, and a direct PC Camera mode (so you can use it as a video camera when connected to the PC via the USB cable).  The picture of the ticket at the top of this post was taken with the camera (about a foot away, cropped to show only the ticket, and using the self timer mode so I could put the camera down and step away to get a non-blurry shot).  Overall, the camera works and has software that works.
Of the 2 CD's, I only expected a sales presentation for the boot camp.  To my surprise, one CD has the entire "Go Time" book as a pdf file.  The other CD has about 48 Kb of a Q&A pdf file and a list of lenders.  I really liked getting the Go Time, as that saved me $25 I was planning to spend for it.  The other CD confuses me – why burn a CD for a short text file or two? I'm sure it could have fit on the other CD, or sent in an e-mail to participants.
Overall, I would say Scott Yancey delivered what he promised.  Participants got a working digital camera, and a free copy of his new book.  He didn't show up, but he didn't promise that.  I'm really disappointed he is partnering with Dean Graziosi and is attaching his name to the whole upselling real estate scheme.